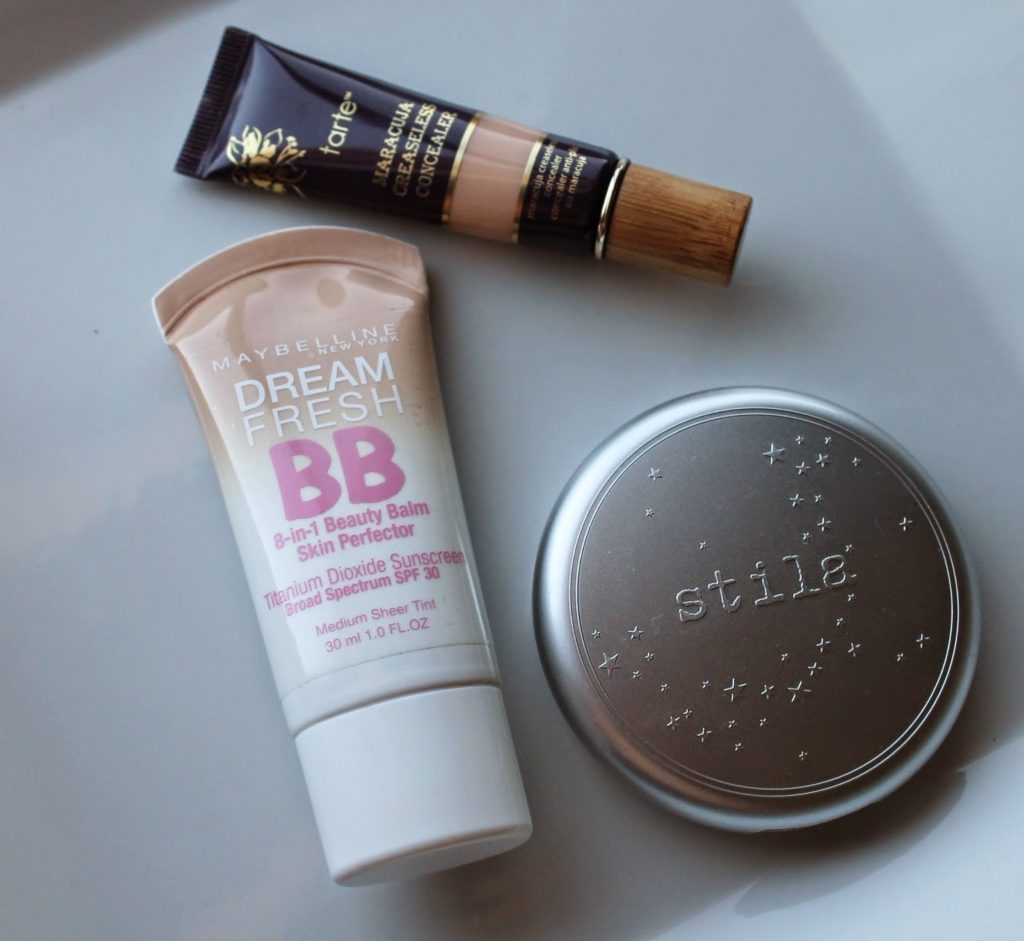 I'm wearing Tarte Maracuja Creaseless Concealer, Maybelline Dream Fresh BB Cream, and Stila Sheer Pressed Powder. I've been using a combination of these three products lately.
My daily wear one is the Maybelline BB 8-in-1 Beauty Balm Skin Protector, I love it!!!! Love it because it gives me a full light coverage, which looks very natural. On top of that, it has Broad Spectrum SPF 30. I am big on sunblock. Now in my 30's it is a total must have.
Claims to: Blur imperfections, Enhance, Brighten, Adjust to skin-tone, Smoothen skin, Hydrate, Offer Sun Protection, and is free of oils and heavy ingridients.
I feel that it does all those things, and makes me feel like I have very smooth skin complexion.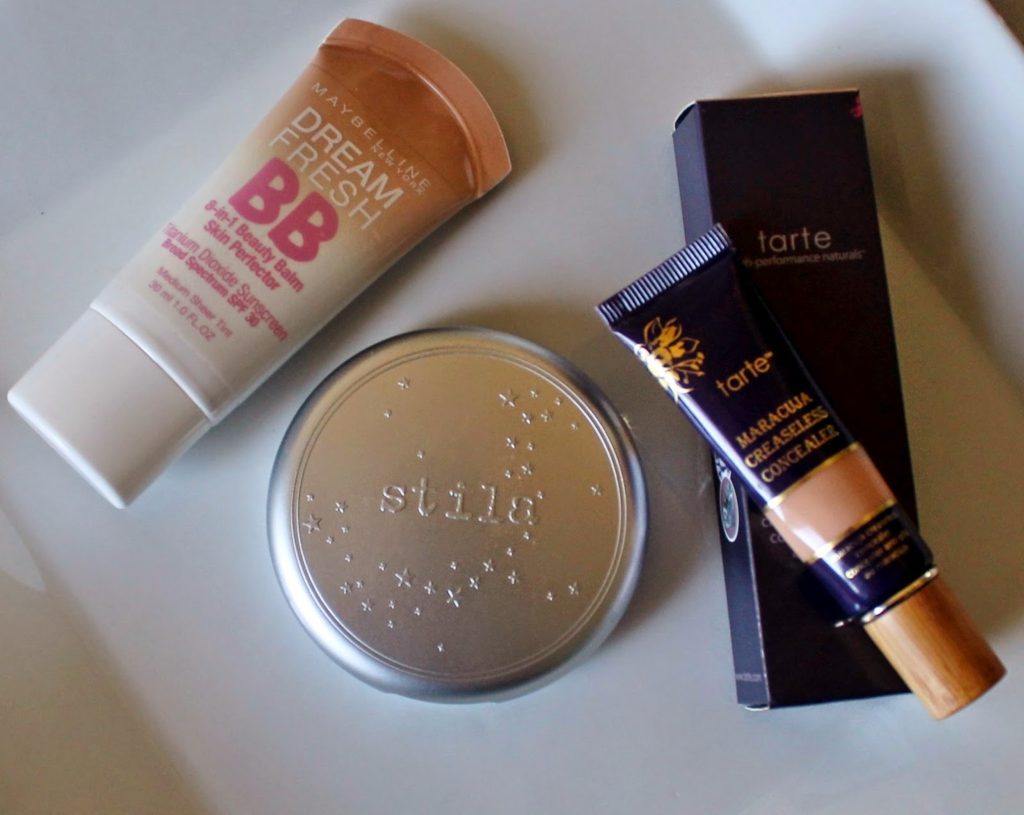 My next weekly wear one is the
Stila Sheer Pressed Powder
. Now this product is great when I want a more matt finished look. It is sheer, therefore very light. I like this because, I am not a fan of CAKE face. I hate feeling like I just smeared a pile of whip cream frosting on my face, that oily, greasy feeling. Not me at all! So this powder is perfect because it is translucent enough to add a touch of flawlessness. It does hide tiny imperfections, scars, etc.
Claims to: provide natural finish, even skin tone, control shine, set foundation/concealer, leave skin feeling luxuriously smooth, soft and silky.
I do agree, it takes away my shine, and sets foundation or concealer very well. As far as leaving my face feeling luxuriously smooth, soft, and silky…uh not so much. It feels a little dry, but my skin does look extra smooth. Hehe!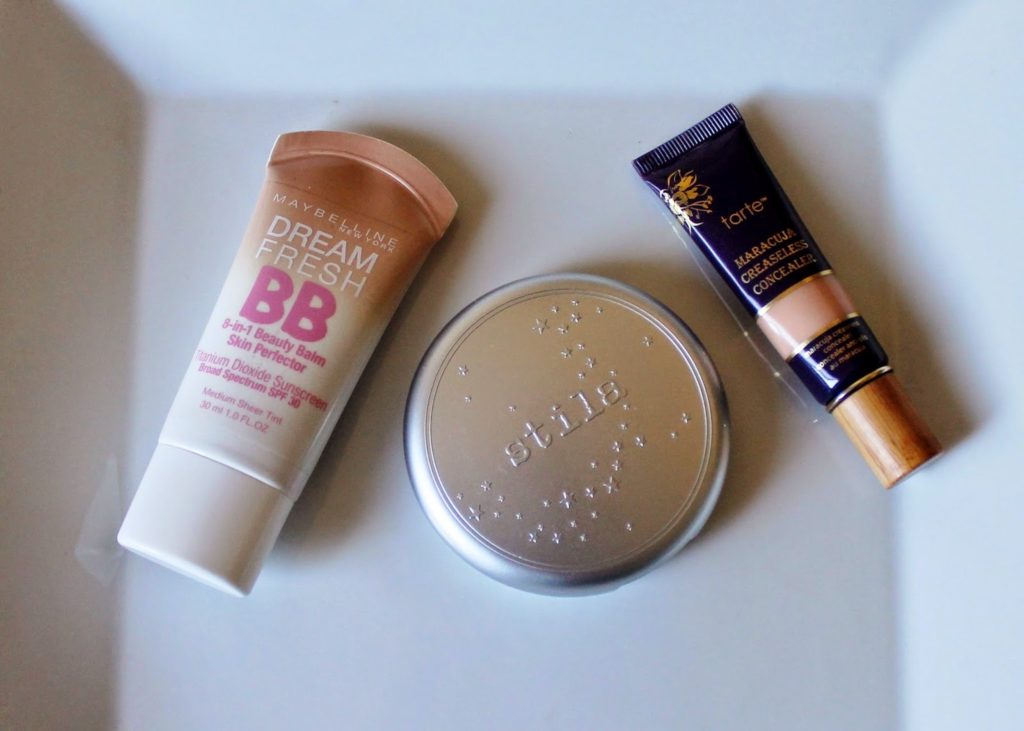 Now to my every so often used item, the
Tarte Maracuja Creaseless Concealer
. This is an awesome product because you need just a tiny amount of it to get full coverage under the eye area. It is thick without being clumpy. I dab it on after applying moisturizer on my face and it goes on very smoothly. I've also worn this product without moisturizer. Guess what? I don't get any creases happening under the eye area on it's own. I follow it up with powder or the BB Cream. It does make me look much more refreshed, even after only getting 4 hours of sleep sometimes! (Now I don't recommend doing that, after all we need our beauty sleep!)
Claims to: Offer full coverage, a creaseless look, be waterproof, have long wearability.
I agree with it's claims completely!
I love all the products, and highly recommend. Also for those with sensitive skin like myself, they do not irritate my skin at all. A major plus!
Hope to be back soon with an outfit post. Until then, have a beautiful rest of your week everyone! Thanks for reading and visiting always.
Tania