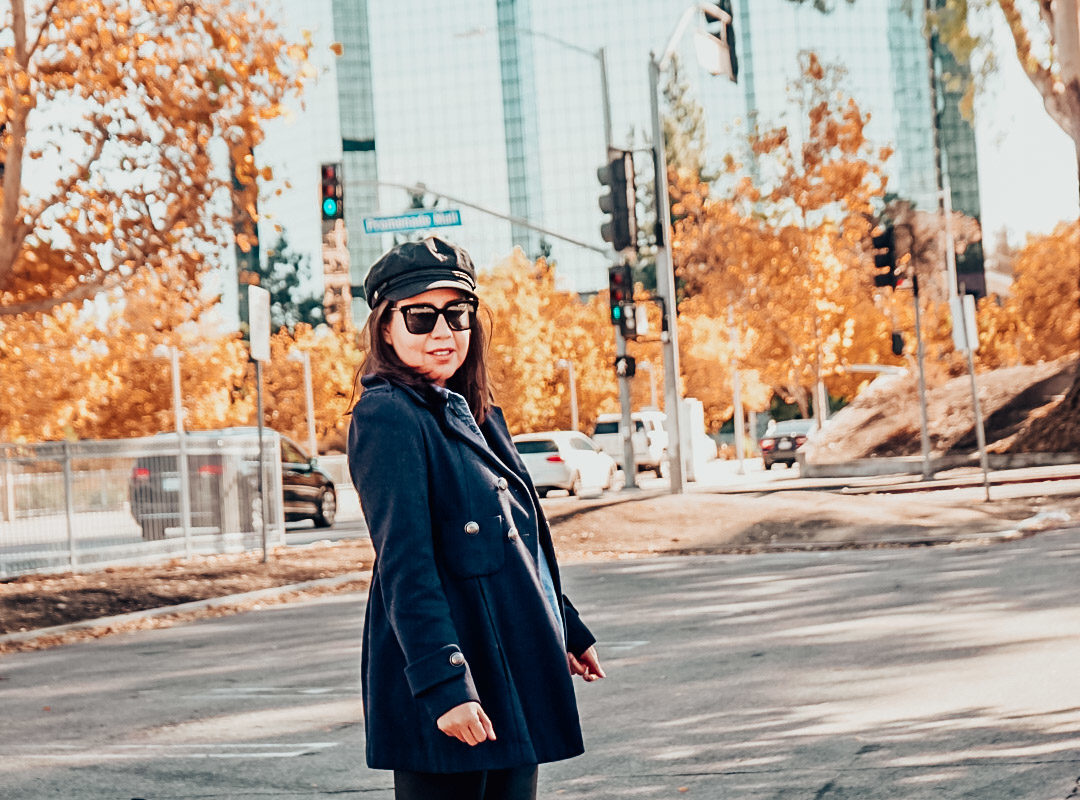 I've been dying to share with you my closet staples that have made it through my minimalist journey. My navy pea coat, faux leather leggings, and OTK boots are some of the most loved pieces I own. I can style these up or down, and they go with so many other things I already own. Since I've been working on minimizing my closet for the past 2 years, I've kept these pieces around for their versatility, comfort, and style. If you're looking to minimize your shopping and save for that dream vacation read on for my tips on how to do just that!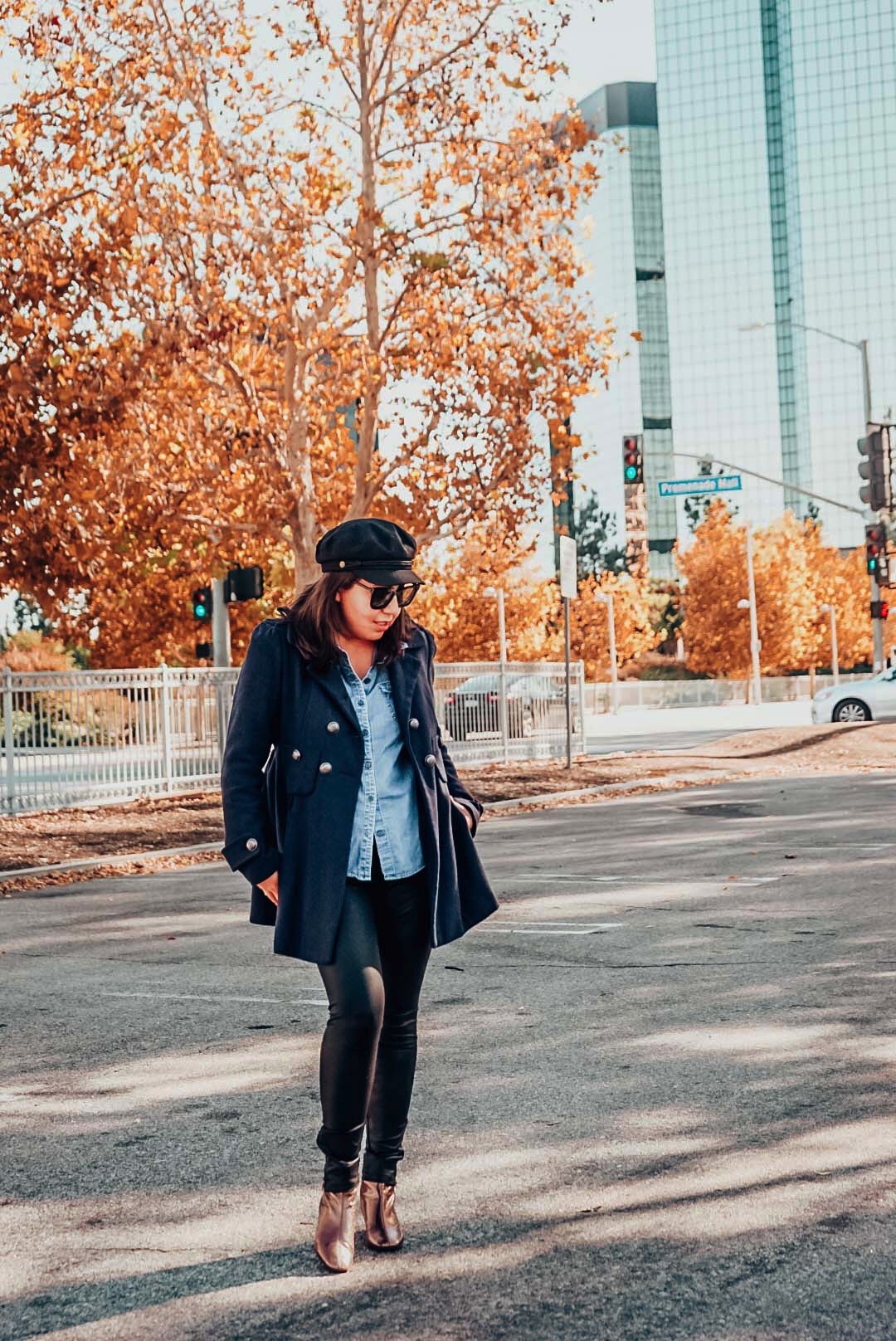 "Create your own visual style…let it be unique for yourself, yet identifiable to others." -Orson Welles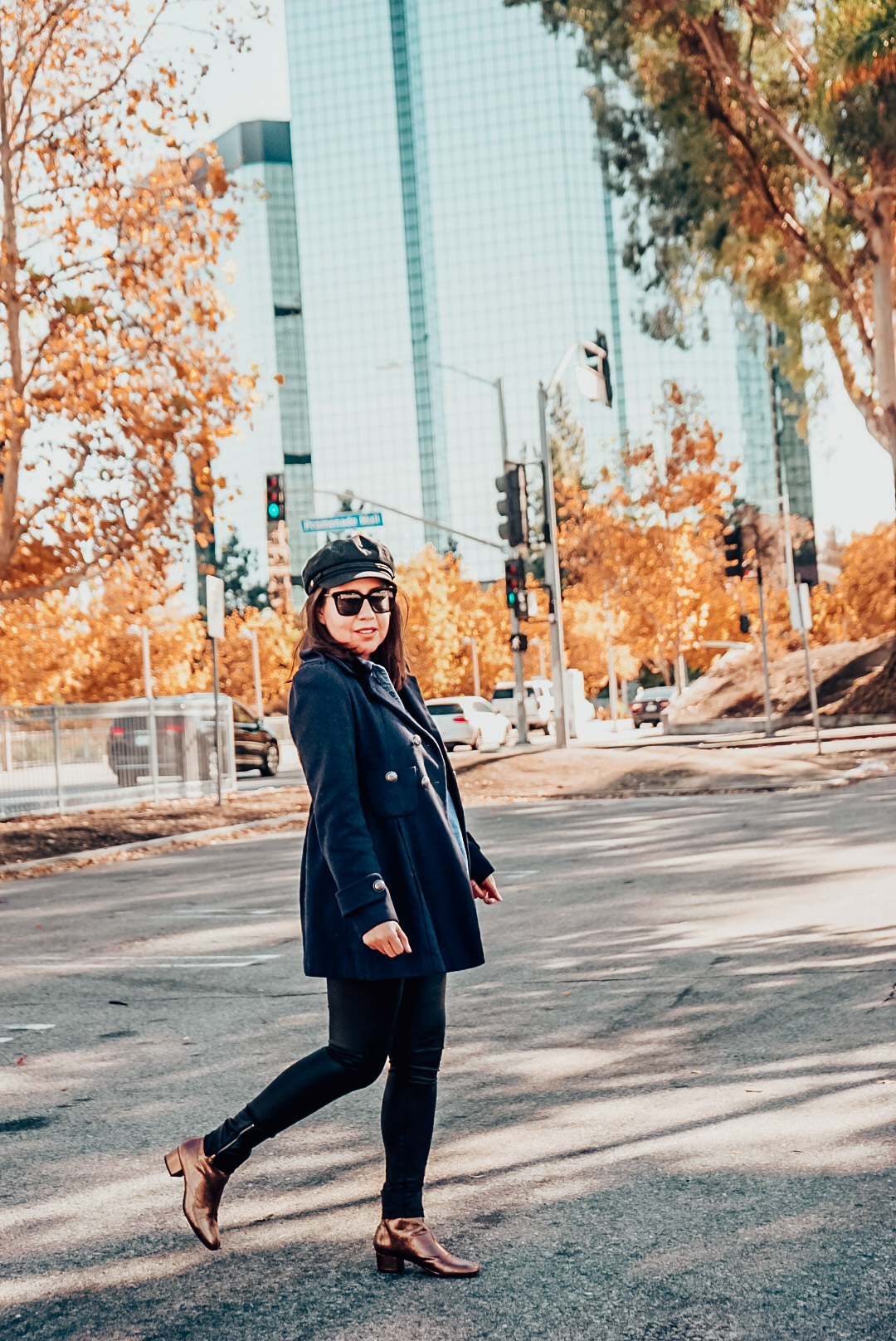 Style Tip: Choose to buy versatile pieces that you can already visualize with other things that you already own in your closet. You have to already see it with an outfit in mind, two even better. This way you know that whatever you buy won't sit in the closet for months or even years!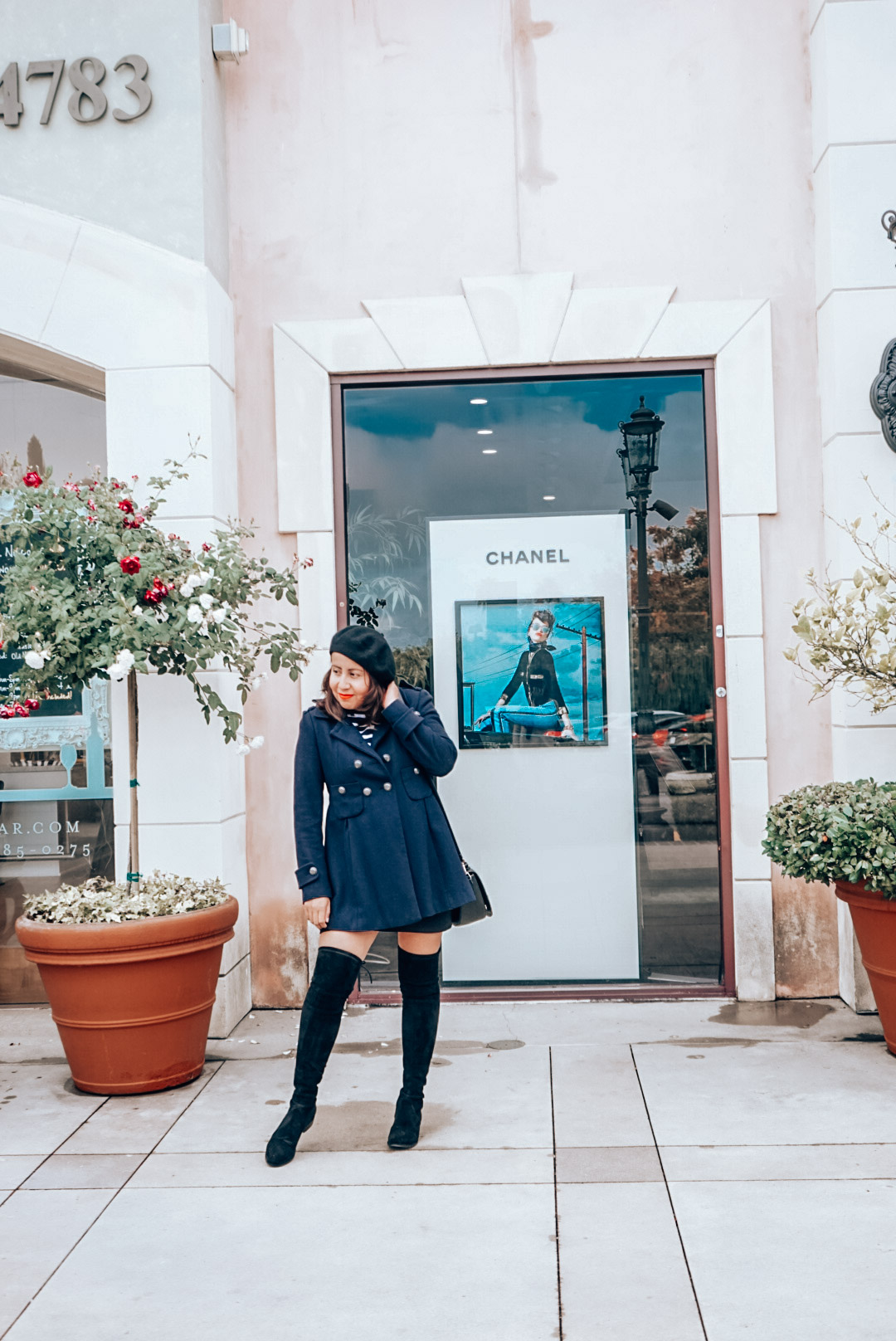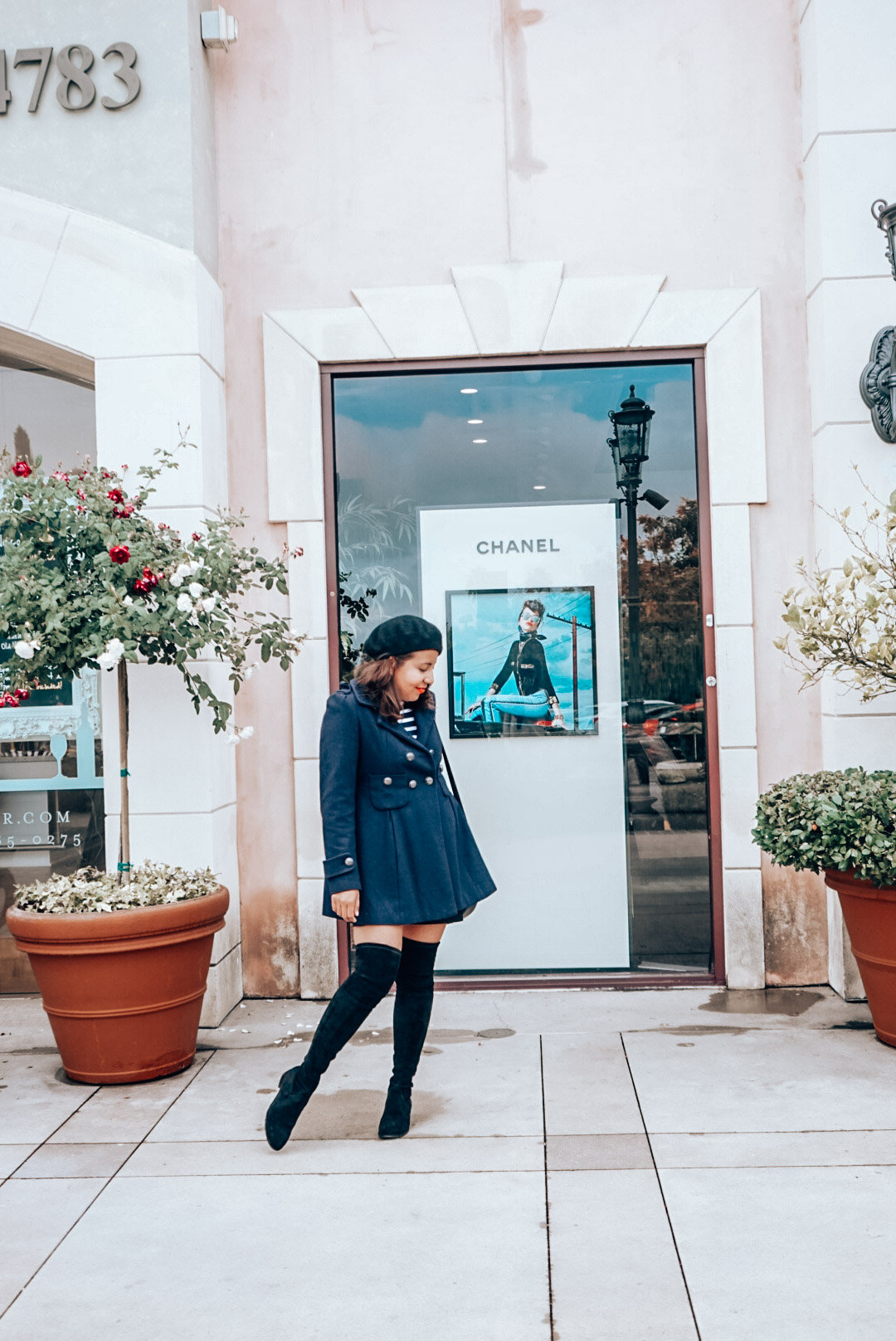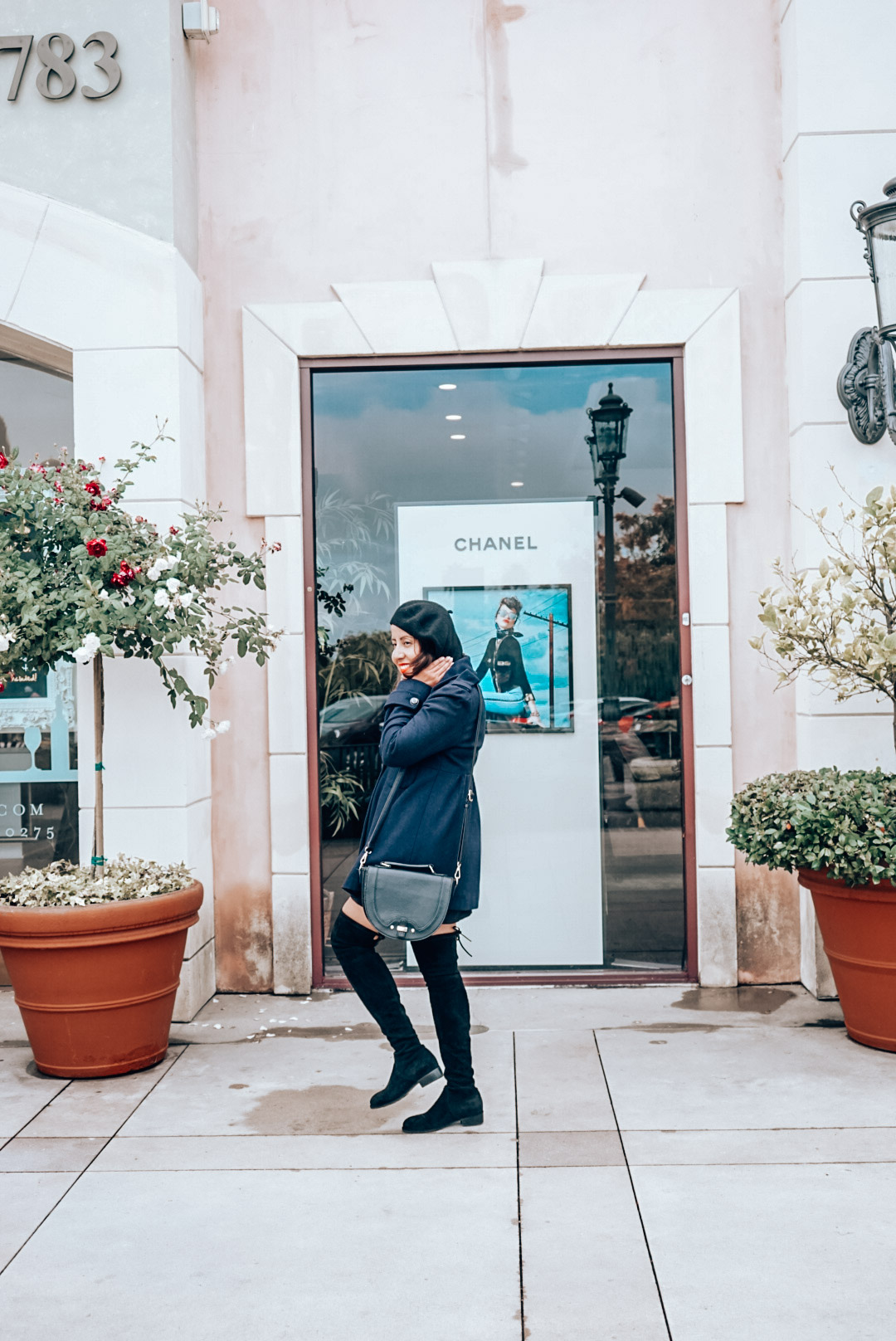 Style Tip: When shopping DO NOT BUY something because it's the in thing at the moment, a trend, a fad, whatever you call it. Make sure it's something you will be wearing year round if possible. Do you see yourself wearing it to different places or styling it in different ways? If yes, then go for it! Impulse buying is the killer of happiness. Why? You will regret it most likely! It may sit in your closet with tags for a while, or you may only wear it once. It will add unnecessary things to your life. Why not have space in your life to welcome things that add value, joy, and peace of mind?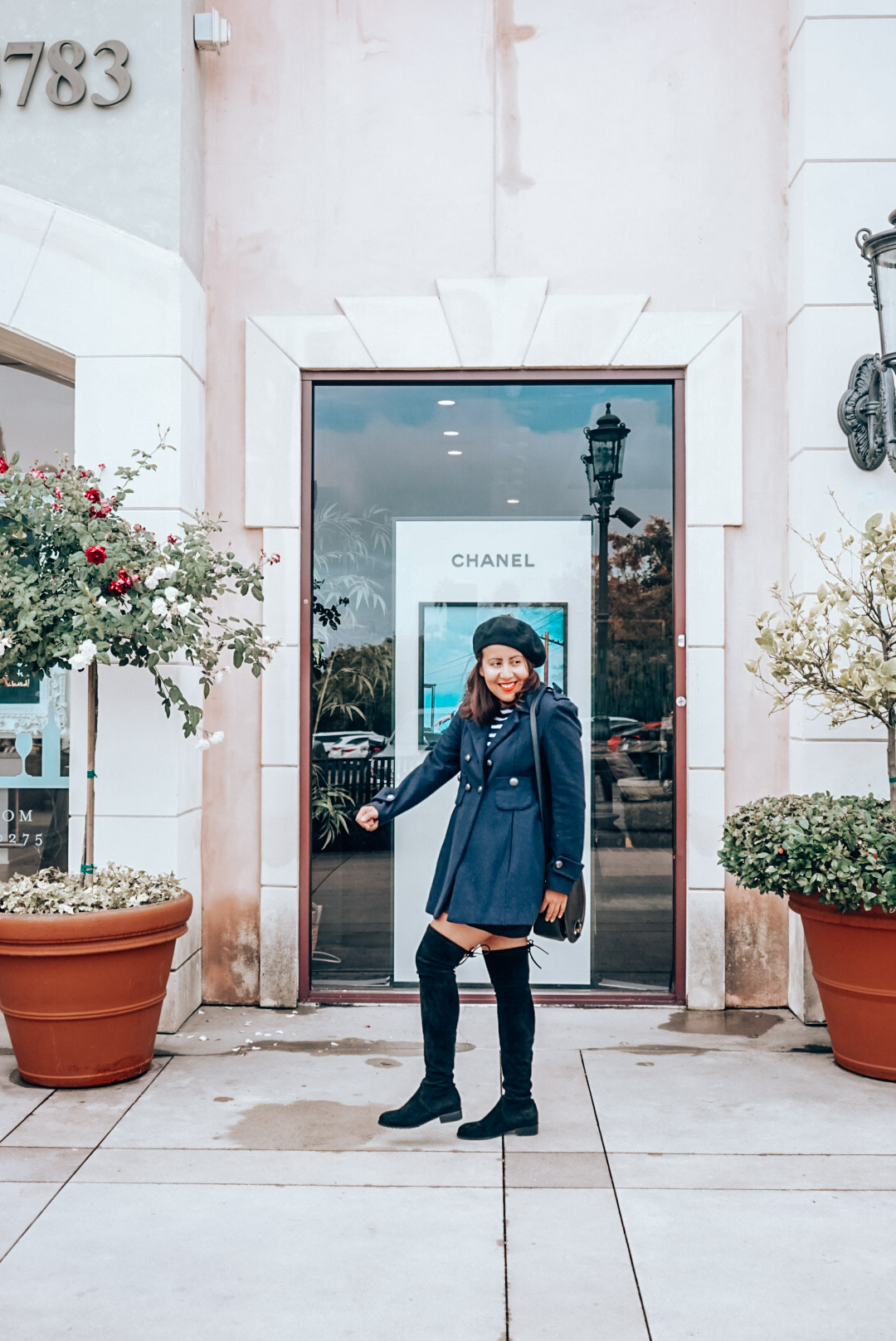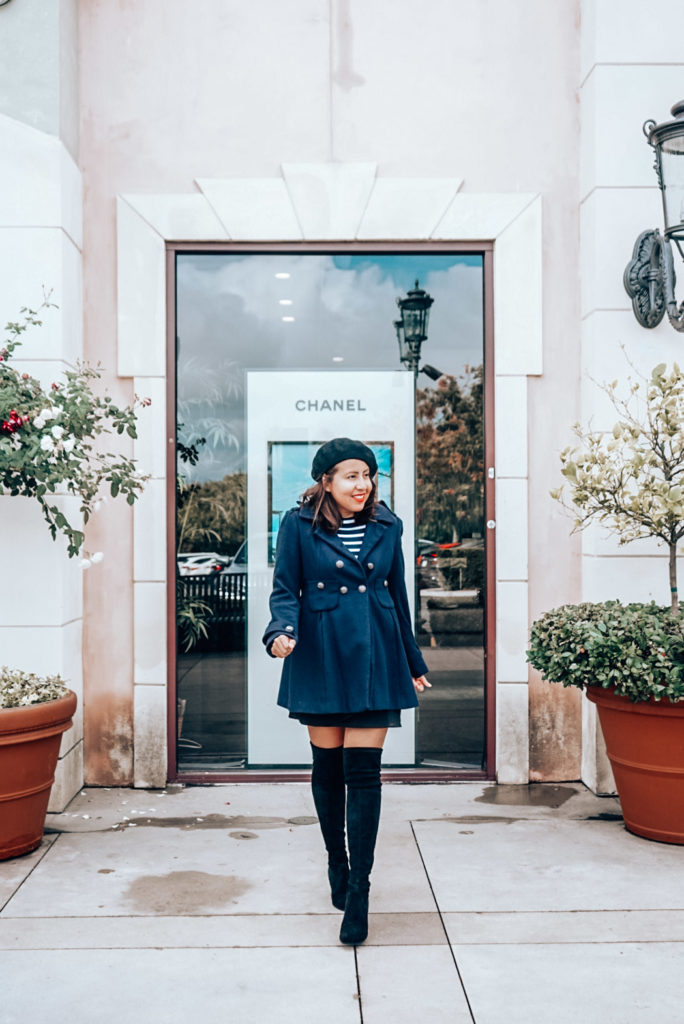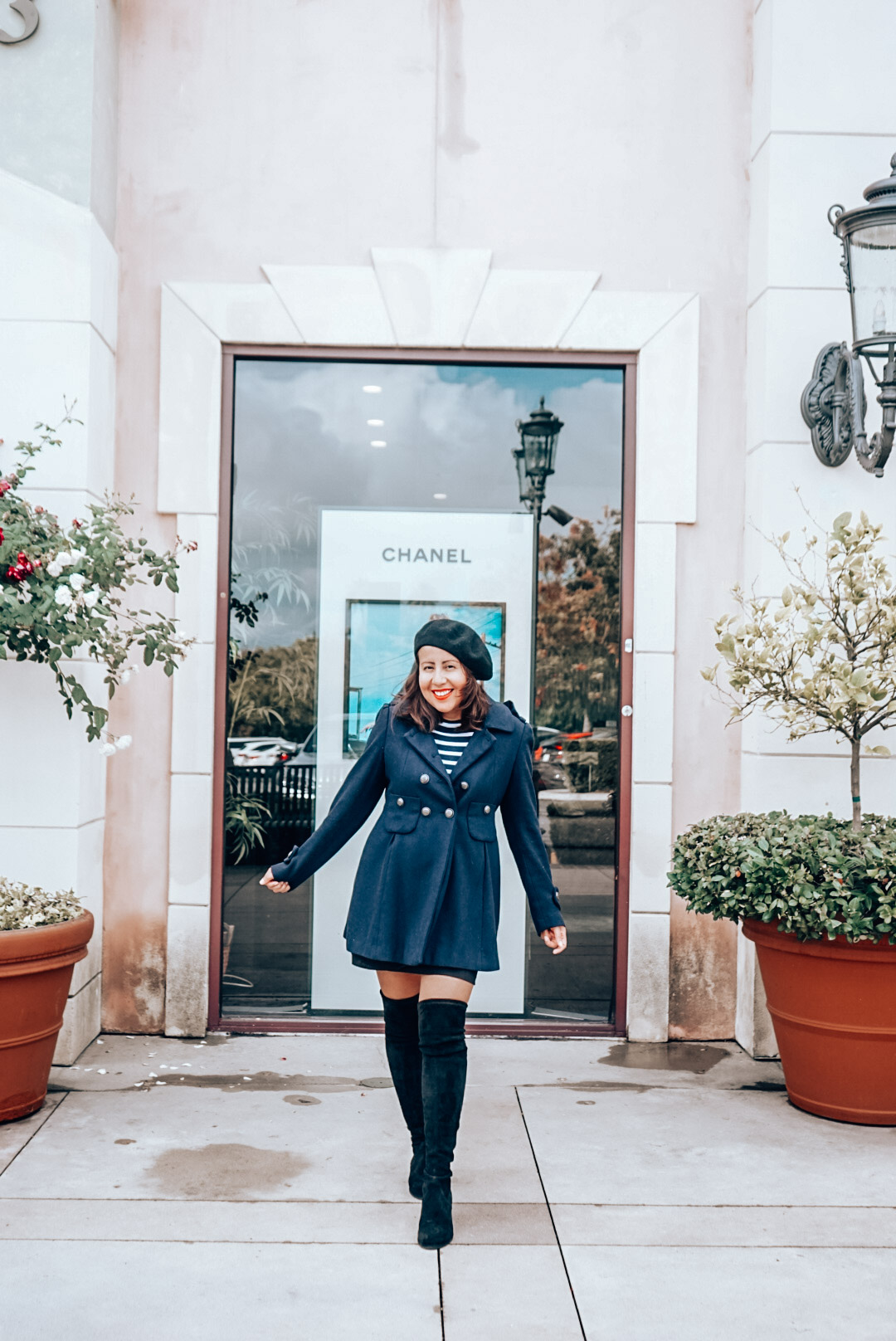 I've had this coat for over ten years and it's one that I go to when I want to up the style factor. What does that for me are the the gold button details and of course the design. I love the cuff detailing on the arms, collar, as well as the little side pockets. After all it's all in the details right?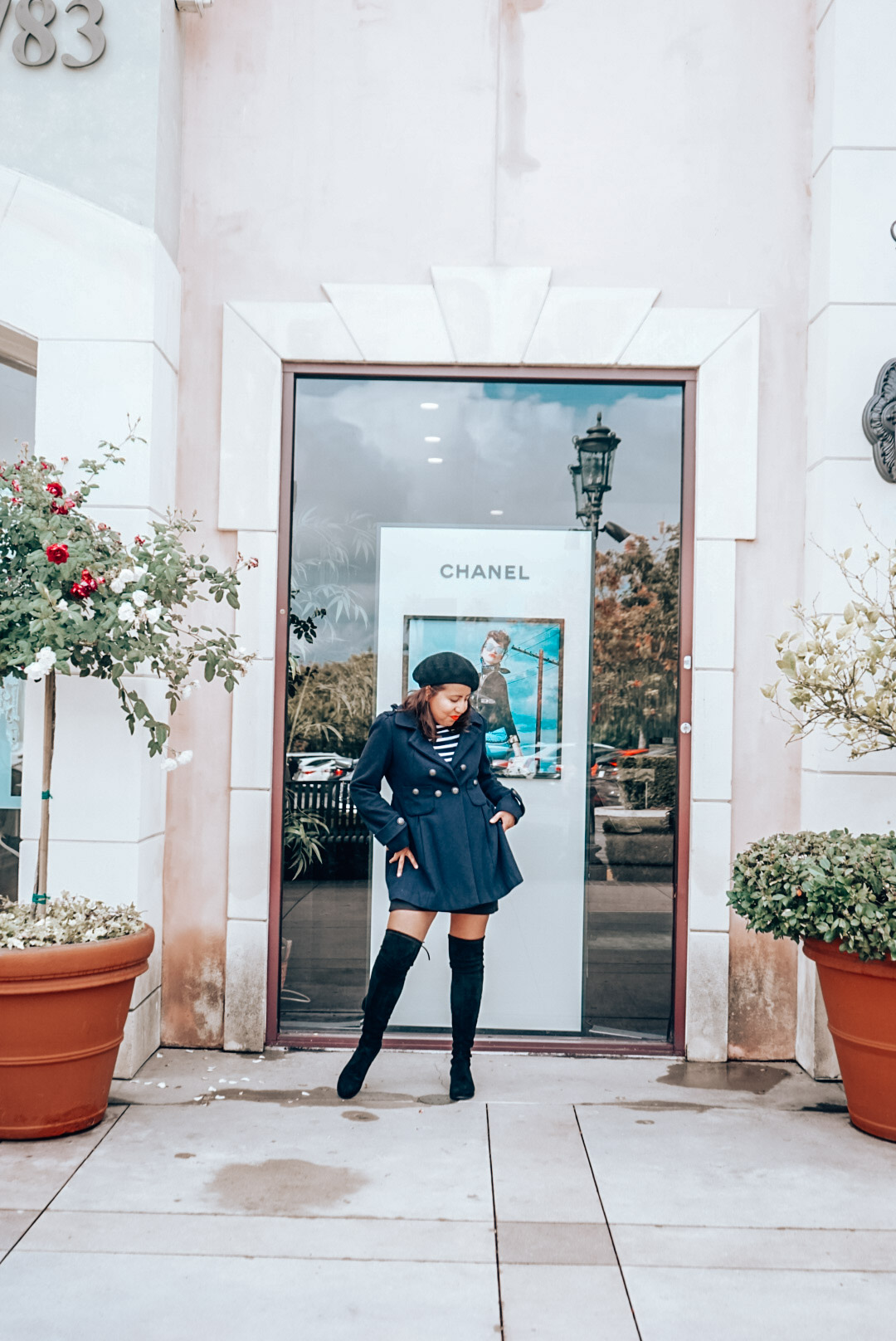 My OTK boots are another closet staple that pairs with so many different skirts and pants. They are on trend but definitely something I own that I adore. No shame in being trendy as long as you aren't racing to jump on every single trend that comes out. This will be hard on your wallet eventually, and it may leave you feeling like you are in some kind of race with how fast fashion is moving. Which leads me to my last style tip, dodge the fashion store emails!
Style Tip: Send the emails from Fashion sites to a place you don't see them in your email in box or just unsubscribe if you don't want to be tempted by all the sales that are constantly happening! Out of sight our of mind. :))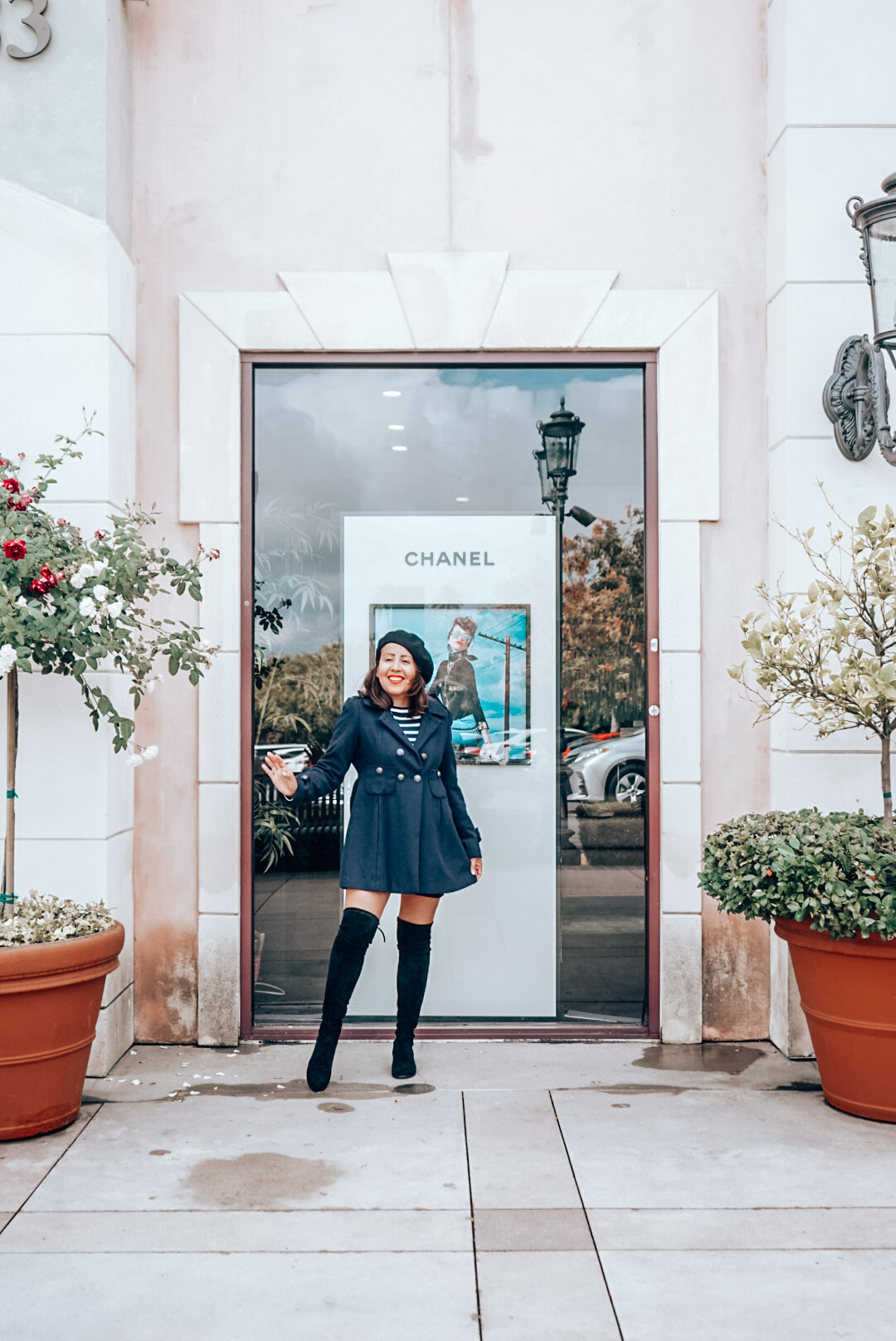 As you can see this coat is versatile as can be! With skirts, pants or leggings, it will keep you stylish and confident as can be. At least that's what it does for me. Hope my style tips are helpful and keep you looking fabulous without over spending and adding unwanted things in your life!
"Great personal style is extreme curiosity about yourself." -Iris Apfel
Much Love,
TANIA