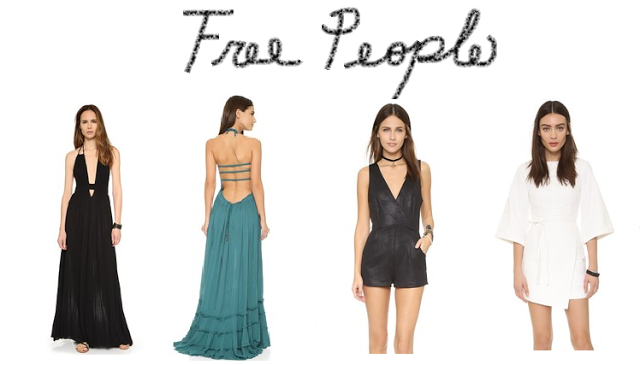 From boho-chic to modern minimalist style, Free People has got to be my favorite brand. I go crazy for unique detailing when it comes to clothing. Free People is well known for their boho styles, but their modern minimalist styles are just as good.
Maxi's are popular because they look good on just about all body types. If you're going to wear one, why not stand out from the crowd? The
black maxi

's
front low cut key hole detail made me love this dress. The strappy low back and ruffled train on the
blue maxi dress
is just as eye catching. It's just refreshing to see something new in such a trendy type of style.
The simplicity of minimalist style clothing is beautiful to me. It's edgy because of the clean lines and angles. With this type of design the beauty lies in the folds and seams of the fabrics used. I love the White Hudson Valley Dress because of the apron style front, and the wrap around belt. The Black Coated Knit Romper has a great v-back with an exposed zipper. That little strip across the top part of the back is my favorite detail about this romper. Two beautiful modern and chic designs!
The unique cuts, and thoughtful detailing in Free People's easthetic makes them stand out from so many other brands. Though boho chic, and minimalist styles are so different, you can see that these designs share the same easthetic. It's all in the details! Do you prefer one over the other? Are you more into modern street styles, or boho styles? With me it's the mood I'm in, because I love them both the same.