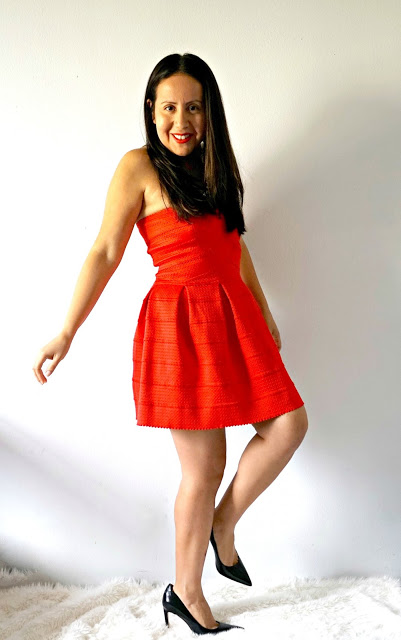 Hello! Are you ready for February? I'm ready to let all the red in my closet spill out onto this month in honor of Valentine's Day. I can't say red is my favorite color because I love so many. What I can say is that I am very drawn to this color, therefore there is a lot of red in my wardrobe.
SP: ¡Hola! ¿Están listos para Febrero ? Estoy lista para dejar que todo el rojo en mi armario derrame en este mes en honor del Día de San Valentín. No puedo decir que el rojo es mi color favorito porque me encanta tantos. Lo que puedo decir es que estoy muy atraída a este color, por lo tanto, hay una gran cantidad de rojo en el armario.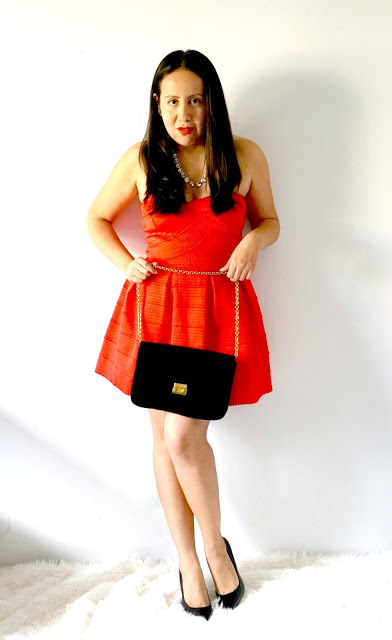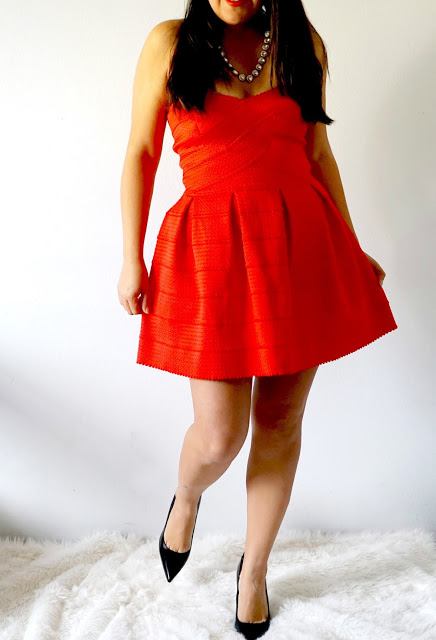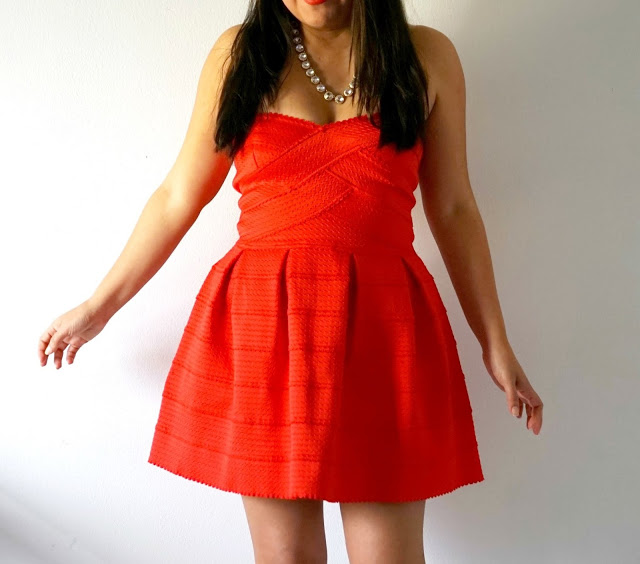 I love this bandage skater dress for so many reasons. It accentuates my waist, and it hides little imperfections. The color is my favorite bright kind of red, and the skater style is just the cutest. I found it at TJMax sometime last year. It was love at first sight for sure. The purse was a gift I got for Christmas last year, and the necklace I gifted to myself. I needed some bling in my life. I thought it went beautifully with this dress.
How do you feel about the corlor red or Valentine's Day? I for one love Valentine's Day. Although I try to show my friends and family I love them all year long, it's great to have a day to celebrate
LOVE
.
SP: Me encanta este vestido patinador de vendaje por muchas razones . El vestido acentúa la cintura , y esconde pequeñas imperfecciones . El color es mi tipo favorito de rojo brillante , y el estilo patinador es sólo el más lindo. Lo encontré en TJMax el año pasado. Fue amor a primera vista con seguridad . El bolso fue un regalo que me dieron para la Navidad, y el collar fue un regalo que me ise a mi misma . Necesitaba un poco de bling en mi vida. Pensé que iba perfecto con este vestido .
¿Cómo te sientes sobre el color rojo o por el Día de San Valentín? Por mi parte, amo el Día de San Valentín . Aunque trato de mostrarle a mis amigos y familiares que los quiero todo el año, es bueno tener un día para celebrar el
AMOR
.
Tania