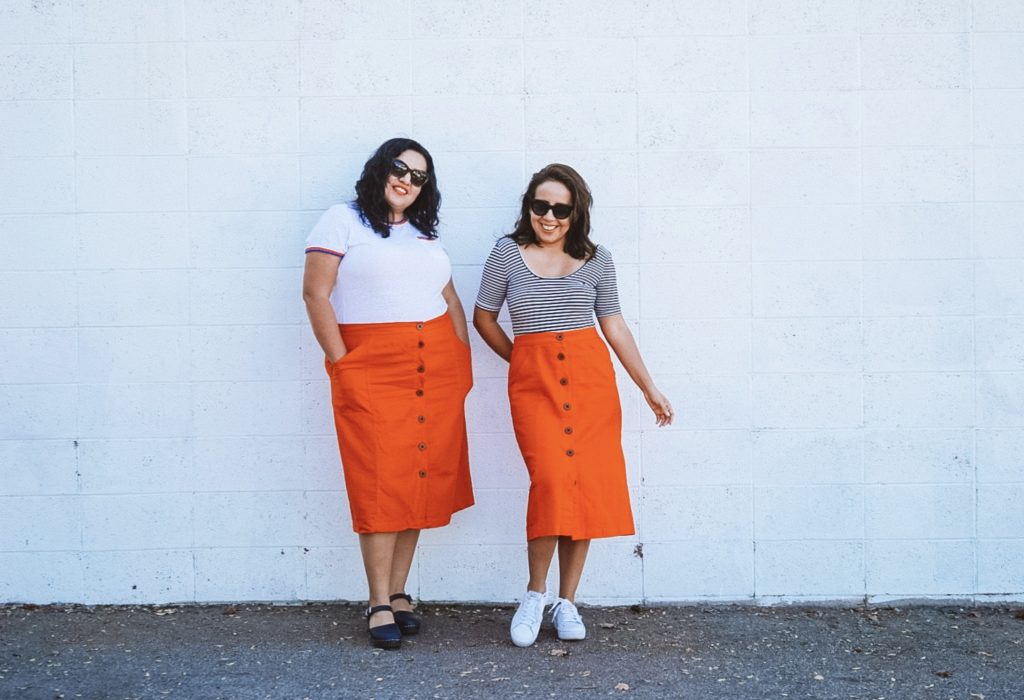 Hi Everyone! I'm so happy to bring some sister style to the blog today. This is my sister Claudia, she's only one year younger than me and we share a passion for fashion. We also love some Target Style like crazy! When she showed me her red button down skirt, I knew I had to snatch one up for myself. We love bargains and think that Target for the past few years has been delivering on all things fashion like no other. It was so fun shooting this post for me because I've been wanting to shoot my sister's style for so long. Read on to see who our fashion icons are and how we differ in style!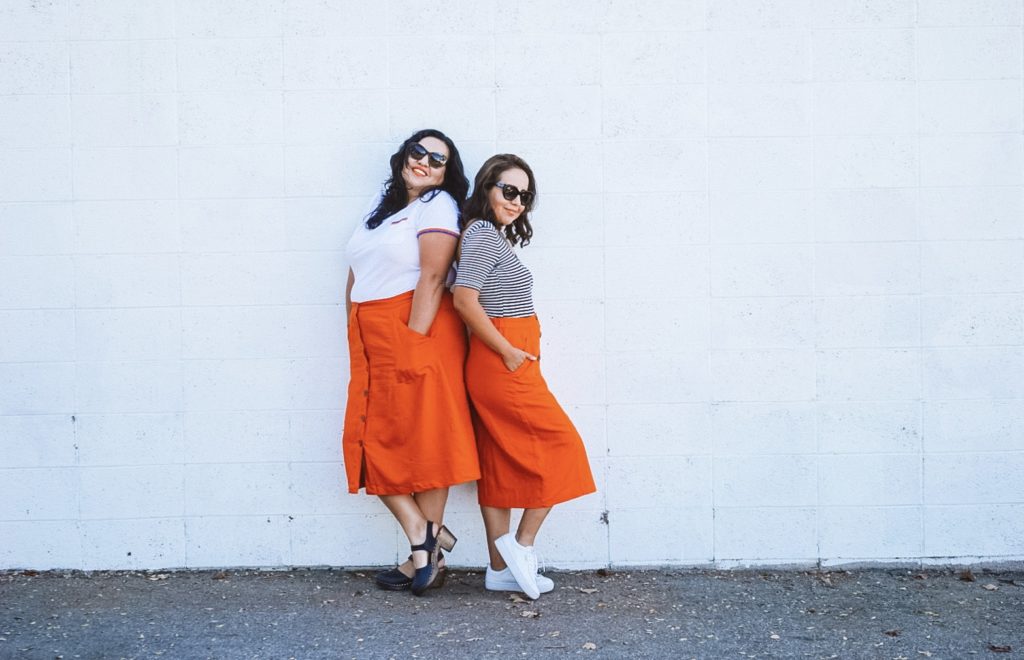 On Style: I can best describe my sister's style as Resort Style and elegant, more sophisticated. It is relaxed, feminine, fancy and a bit sophisticated at times. Mine I would call more sporty chic and sometimes boho chic. I think we both follow some trends, but not all.
As you can see we styled the skirt similarly with differences in footwear and top style. For me, stripes literally put a smile on my face when I wear them. I just feel that you can't really go wrong with black and white stripes ever!!! Yes I know that is such a bold statement to say, but I completely believe in it. Especially when contrasted with a bright color, it's style magic. My sister's top is less bold but oh so stylish with the blue and red striped details on the sleeves and side pocket. Those details are the cutest! Like a said a bit more sophisticated. :))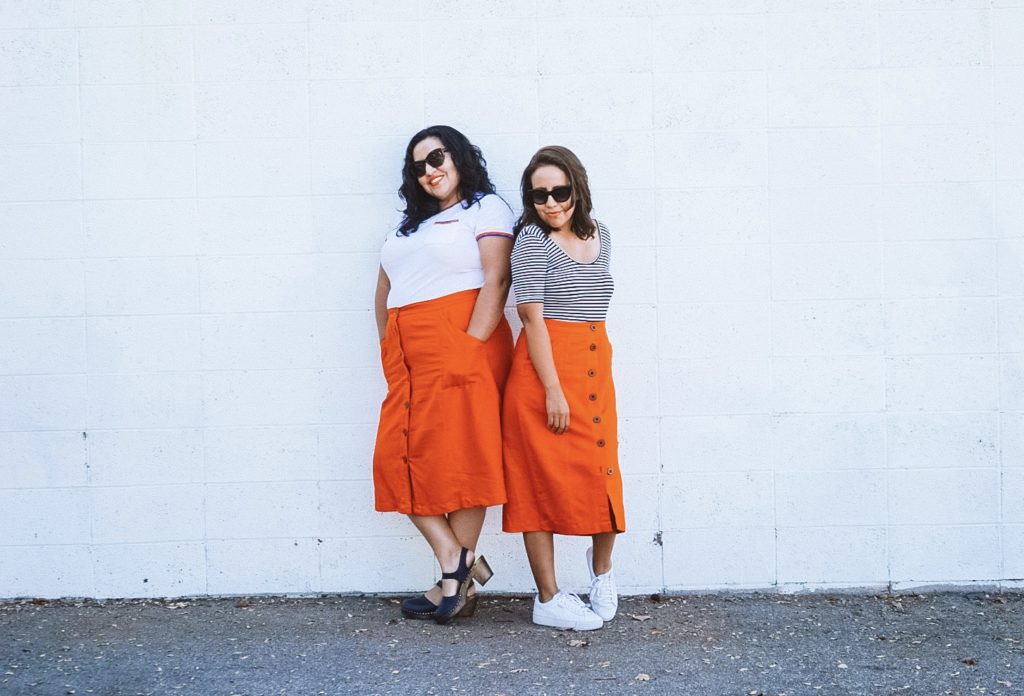 Fun Fact: We both thought about going into fashion right after High School and even went to FIDM (Fashion Institute of Design and Merchandise) in Los Angeles for a counseling session. We enjoyed an awesome fashion show and spoke to a counselor about enrolling for the next semester. Unfortunately we quickly learned how expensive it would be to attend and it wasn't really an option as we lived in a single income household. Instead we chose to enter into community college to complete pre-requisite courses and then go back to FIDM for our merchandising degrees. Our lives went in different directions during those first college years and we did not attend FIDM after all. Everything happens for a reason I think, but our love for Fashion never died!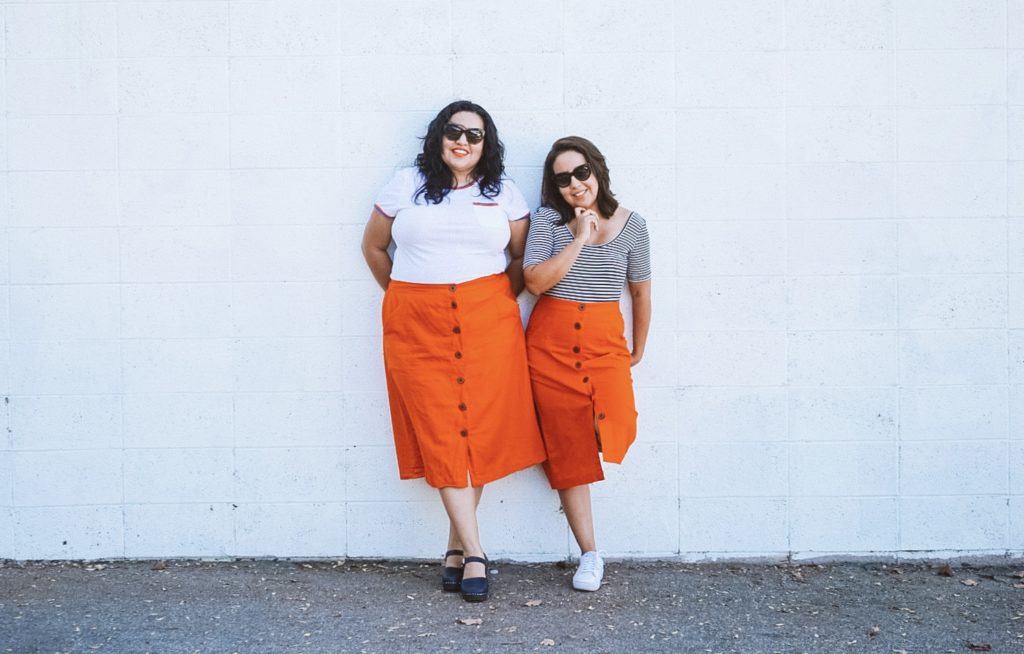 Fashion Icons:
Claudia: Jenna Lyons, JLo, Sophia Loren
Tania: Audrey Hepburn, Marilyn Monroe, Jessica Alba
Hope you enjoyed this sister style post lovelies! If so let me know in the comments, also who are your fashion icons, do you have any?
Cheers, 
Tania