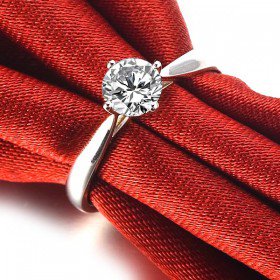 Isn't this ring just beautiful?
It's from
Jeulia.com
, an online jewelry store that specializes in engagement rings. I've chosen a few of my favorite rings from Jeulia to share with you. If I were to be engaged these are the kinds of settings and stones that I would love to have. The best part is that the rings are super affordable, because you are buying directly from the manufacturer. They are such a great bargain for such classic and intricate designs.
Although I love simple dainty designs when it comes to jewelry, I also love intricate unique pieces. By intricate I mean tiny detailed shapes that intertwine with one another. The tiny details of my last few choices, are exactly what I'm talking about. The leaf detailing on the princess cut set is dreamy. I would totally buy these for myself because I adore them.
Jeulia also carries tons of other styles, and different types of stones to choose from. They offer a 60 day return policy and free gift wrapping! It gets even better with 10% off your first order. Yes, yet another great reason to visit and look for a little special something.
You can find many more choices by clicking the link below.
Much Love,
Tania
*This is a sponsored post, all thoughts and opinions are my very own.