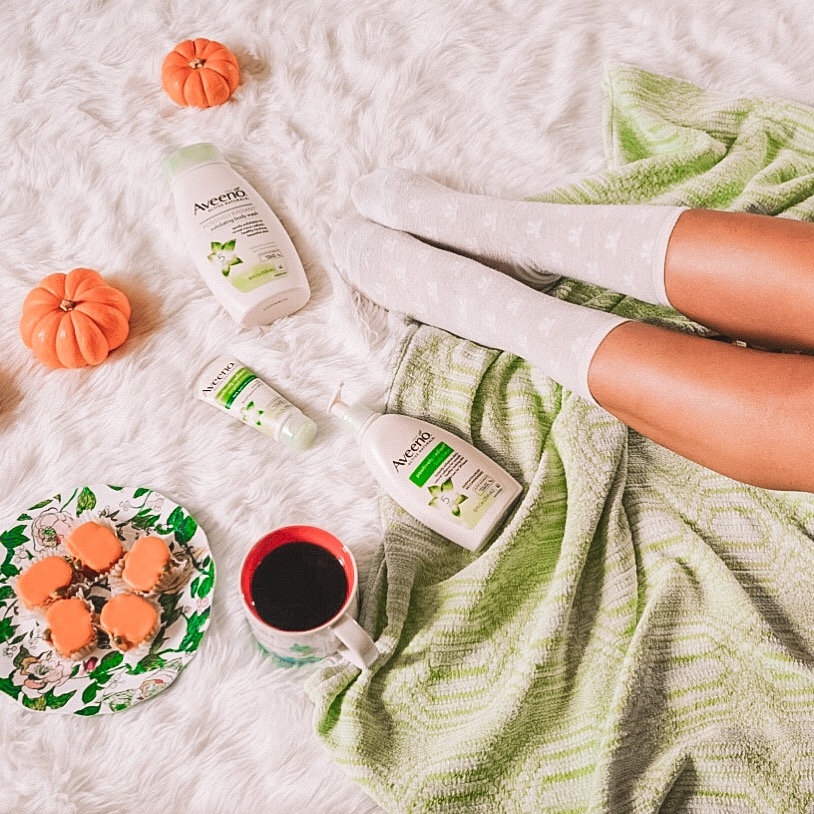 *This is a sponsored post, all thoughts and opinions about the products are my very own.
Fall has arrived and along with it I welcome everything Autumn related; from coffee and sweet treats, to pumpkin carving, and cozy socks and blankets. One thing I don't welcome this season is dry skin. Which is why I'm happy to bring you a beauty review with Aveeno Positively Radiant skin care! The three products I sampled were the exfoliating body wash, body lotion, and dark spot corrector with Broad Spectrum SPF15. As a fan of  Aveeno I was excited to collaborate with the line! Read on to see what it serves up your skin this season. :))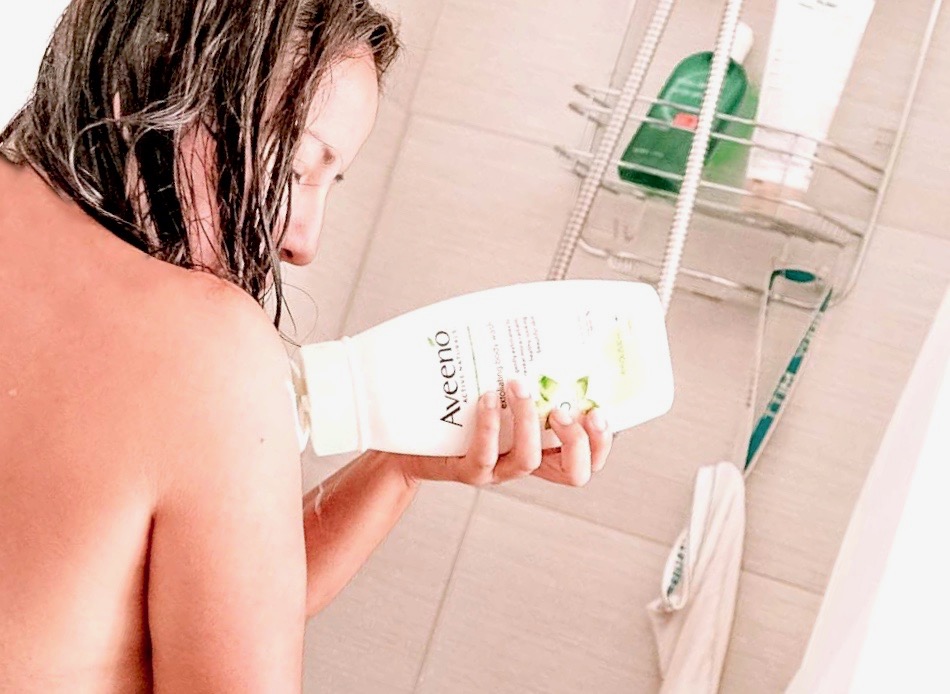 I wanted the full experience of the products, so used them in this order to get the maximum results. I began with the exfoliating body wash daily for one week. Using a wet pouf I gently lathered away and rinsed. You seriously don't need too much, lather builds instantly with a light fresh scent. A big plus is that the wash does not contain any plastic microbeads and offers a creamy lather. It's not harsh and feels more like tiny sand particles that melted away as I gently scrubbed.
As far as exfoliating my skin, I think it did a fairly good job. When I compare it to other exfoliation body washes I have used in the past it is less rough on the skin, meaning it's gentle and doesn't irritate the skin. If you're looking for thorough exfoliating this is not the one for you. I recommend it for a daily light scrub that leaves you feeling refreshed and clean. My skin loved it, and I would highly recommend it!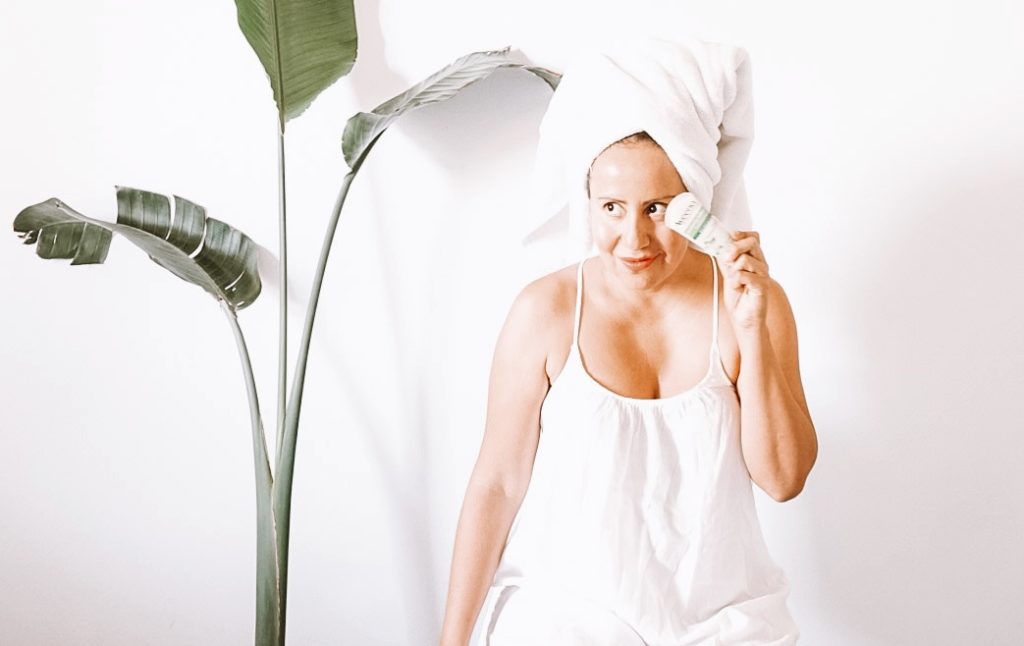 I then applied the dark spot corrector. I've never used dark spot correctors in the past, but now I have a few tiny scars. Though you can't see it in pictures, it's something that I notice personally. So yeah, I know we don't have to be perfect, but I also believe that if something bothers you by all means fix it if you can.
I'm happy to report that I have noticed the spot I focused on is fading with use of the spot corrector. So yay Aveeno because you delivered on your promise! Another plus is that it did not irritate my skin on bit. Be sure to read the ingredients to make sure it is safe for you before using.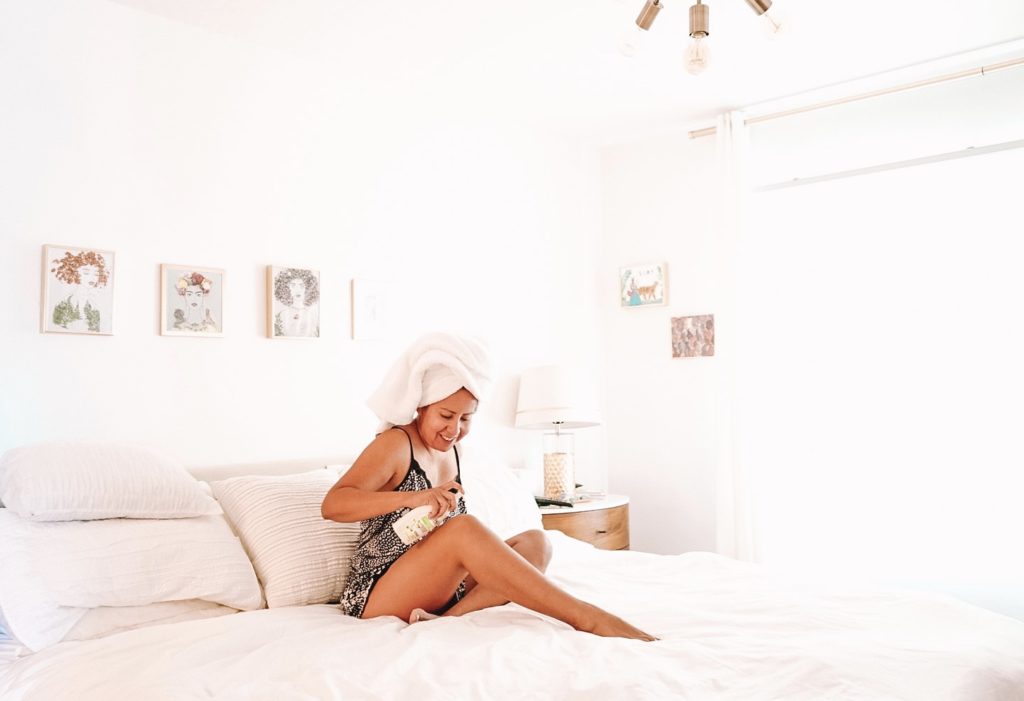 Lastly I put on the Aveeno Postively Radiant body lotion. I have to confess that I don't use body lotion every single day, mainly because I'm so on the go and I hate waisting time waiting for lotion to dry (hehe)! Surprisingly this lotion dried almost instantly and I happily slathered it on daily before getting dressed. I did notice a difference in the texture of my my skin within a few days. I felt so much softer, the dry and bumpy parts of my legs smoothed out to a much smoother texture. Loved it!
I have enjoyed using the Aveeno Positively Radiant line. Actually I have been a fan for years since the line came out. The price points are so good and you can find the line @Target or your local drug stores. Hope my review has been helpful babes! If I missed anything feel free to ask reach out. Let me know if you tried the line and or what is your favorite skin care product in the comments!
With Love,
Tania