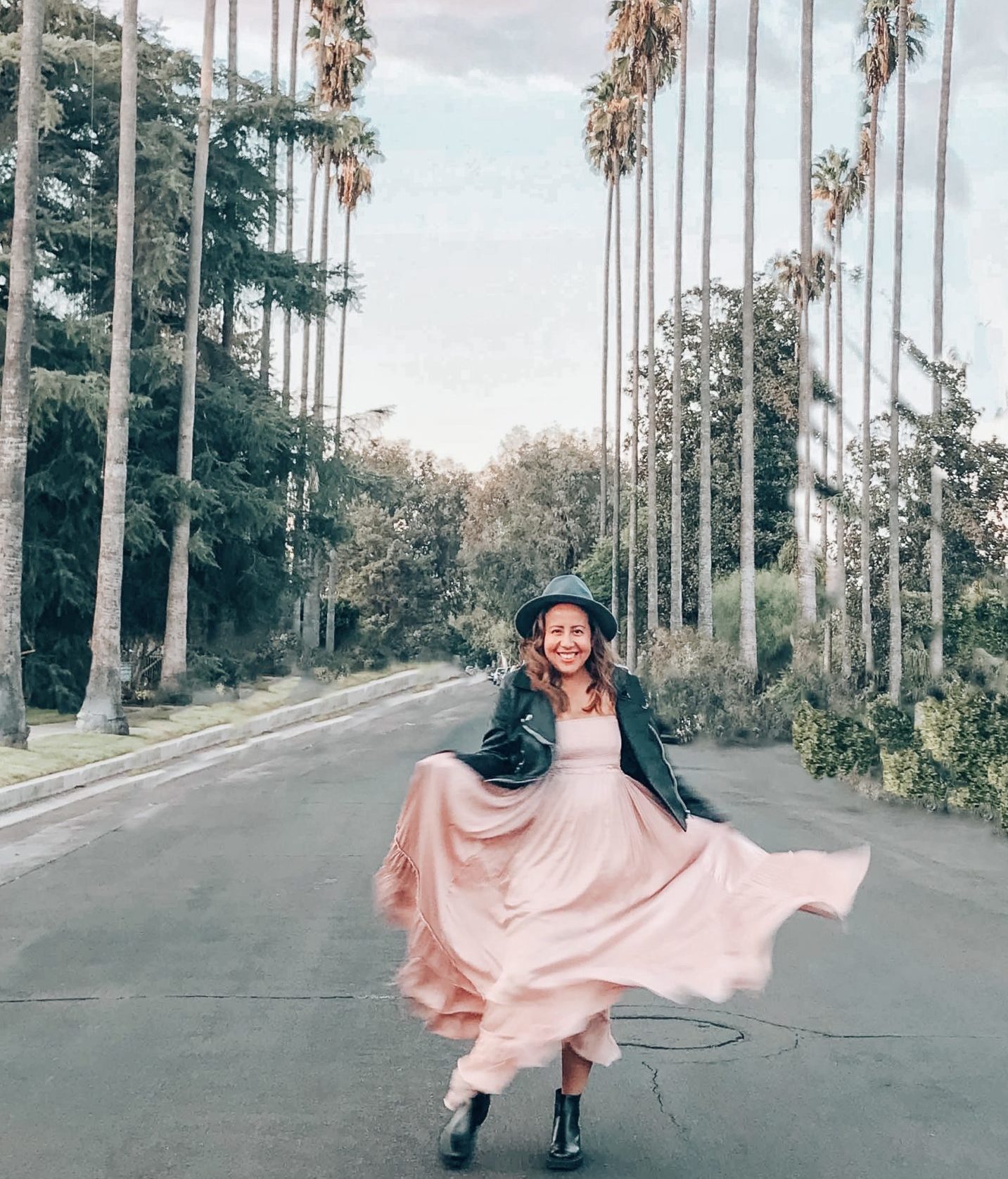 I'm embracing Fall style in light layers, working on my mental health, and my photo editing skills! Can you tell? Hope you can!  I hope you're having a wonderful season yourselves! Read on as I dive a bit deeper into it all.
 No matter where you are in the world when cold temps arrive, layers is where it's at. Layering with a biker jacket gives any look an edge, even a long pink ruffled dress.  I chose to pair this dress with this black biker jacket. It was the perfect combo for a sunny day and chilly night. To me the biker jacket makes the dress pop instead of the other way around. It brings out the pink tone and still lets the dress do its magic with the flow at the bottom. The biker jacket length is key.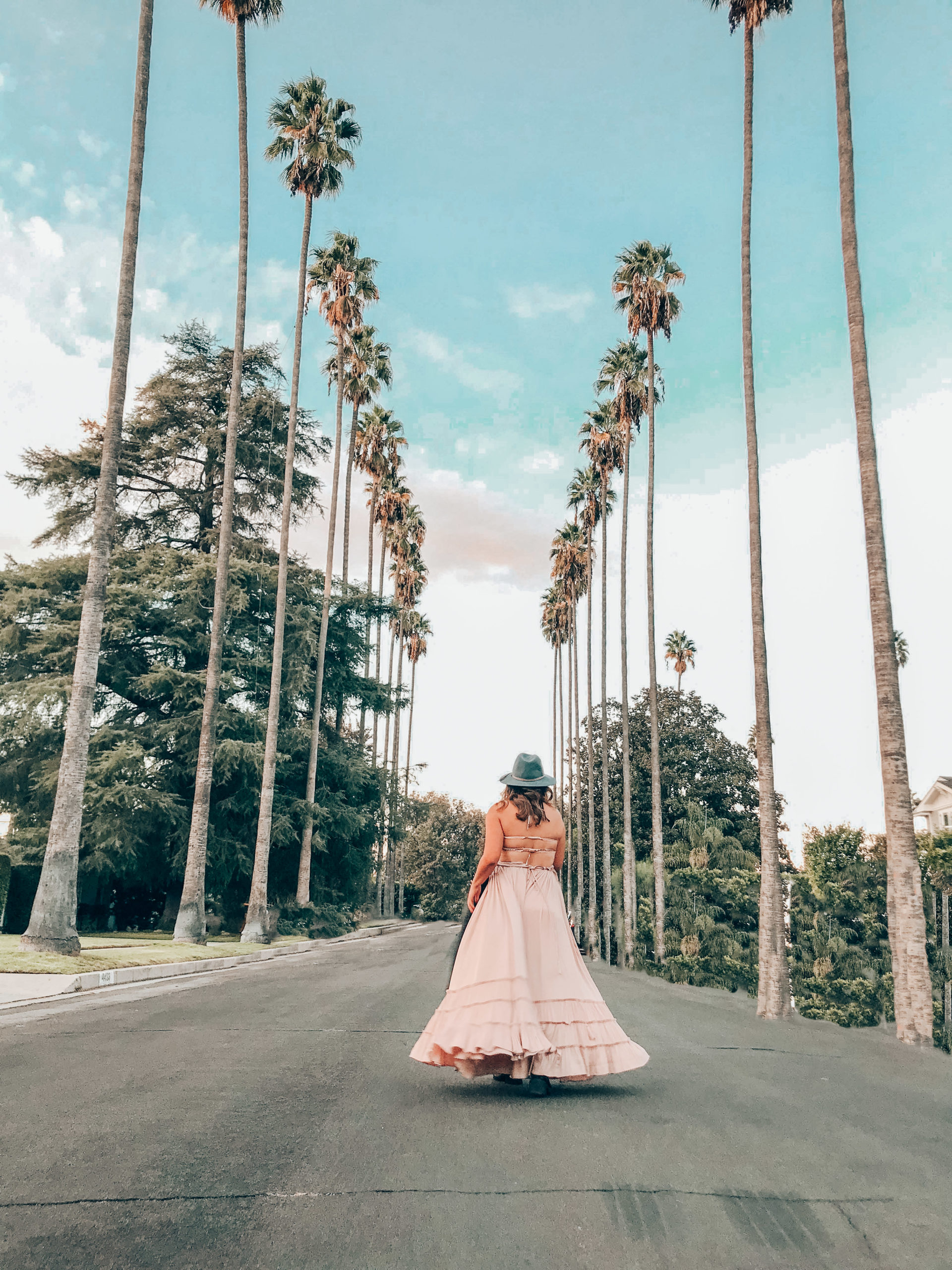 This etherial maxi dress is made out of the most silky feeling Rayon fabric. It comes in several other colors, and gives me a beautiful effortless look. Unfortunately I believe this color sold out, but they still carry it in very pretty tones as you can see above, don't you think?
One of my favorite things is paring pieces that don't you wouldn't normally pair together and making them look like they belong! Have you ever paired a long maxi dress with a biker jacket before? If so, yay we think alike!!!!!
Now that we talked fashion, I would like to share some reasons why I've been away from the blog for some time. This is more on the mental health side. Some of you may know that I have Post Traumatic Stress Disorder, Generalized Anxiety Disorder, and ADD. I'm sharing this because I want to be more open and honest with myself, and with you as well. My hope in disclosing such personal information, it will help other people who are feeling overwhelmed, lost, and a bit out of control.
Sometimes my brain goes in so many different directions, I literally use self talk to stay focused. I use lists, alarms, and reminders on my phone to help me stay organized. When I'm under a lot of stress, my brain can go on overload and I'm not such a happy person. I was tired of being on this non stop roller coaster inside my head and since I'm not on any sort of medication (by choice), I decided to seek an alternative form of therapy. That's when EMDR Therapy came into my life 6 months ago. 
EMDR therapy is a form of therapy in which you replace negative self thoughts with positive ones while revisiting moments in your life that caused you stress or trauma. You are guided through such memories by an EMDR certified therapist. A series of sensory physical or visual stimuli are performed during the guided process. It is in this manner that you revisit traumatic or stressful events in your life. You focus on one event per session, which is why it takes so long. To sum it up, this type of therapy changes your brain chemistry. For me it has been life changing.  I'm healing from the inside out, and feeling better than I have in a very long time. 
I feel like I am having a kind of rebirth. My creative side feels more alive, ideas are flowing, and I feel free to be 100% myself now. I have also been working on my creativity and style choices. My editing and photography skills have gotten so much better this year. I've been able to work with more brands, create better content, and grow as a micro-influencer. See what I mean over on Instagram if you like! Thank you for all of you who have come to visit this blog for the past year, even with the lack of posts. I promise the best is yet to come. 
Much Love Always, 
Tania